Heather Dinich of ESPN.com has released her best game-day traditions at Florida State. Let us know if you know of a tradition that missed the list.
Courtesy of Heather Dinich:
The Seminoles might not have the most game-day traditions, but they definitely have some of the best in all of college football. The pageantry is special and unique to Florida State. One of the most memorable moments in Florida State history will be when former coach Bobby Bowden planted the spear at the Gator Bowl. Of course, you already know which FSU traditions were mentioned the most:

[+] Enlarge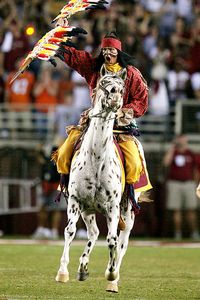 Doug Benc/Getty ImagesChief Osceola riding on Renegade is one of the more recognizable FSU traditions.
Osceola and Renegade: Before the kickoff of each home game, Osceola rides downfield on an Appaloosa horse named Renegade and plants a flaming spear at midfield. The tradition began on Sept. 16, 1978 against Oklahoma State when a student led the team from the tunnel riding a horse. The clothing and rigging used were designed and approved by the Seminole Indian Tribe of Florida.

War chant/tomahawk chop: They're unmistakable and intertwined, and Florida State fans gush with pride at the sound of the war chant. According to the FSU media guide, the war chant began during a 1984 game against Auburn, but also had its roots in the 1960s, when the Marching Chiefs would chant "the melody of a popular FSU cheer." Yet another one that gets stuck in your head easily.

Sod cemetery: It all started in 1962 against Georgia, when FSU won 18-0 on the road. Team captain Gene McDowell pulled a small piece of grass from the field and presented it to Dean Coyle Moore at the next practice. He and coach Bill Peterson had the sod buried on the practice field as a symbol of victory. Now, before every road game in which FSU is the underdog, or playing at Florida, team captains gather everyone to remind them of this traditions. Winners bring back some turf.

Downtown GetDown: I've actually gone to this once, and it was a good time. It's a combination of a pep rally and block party. The bar scene was lively, and there was live entertainment, but it was also a good family atmosphere with plenty of knee-high Seminoles fans.